In this virtual event, Dr. Maureen Gallagher (Australian National University) critically examines cinematic adaptations of Karl May's original 1893 trilogy Winnetou. This event is co-sponsored by the Waterloo Center for German Studies.
View the recording of this talk here (access passcode 7uZA#&+e): https://ubc.zoom.us/rec/share/B-wEjzRpLO0UNLU4ieGgHWyC5q1f95YcrLlpDknJu4zz3gr0aFEyhqHIvkV8g7aC.rjUoQ-LeNRVte5Ww?startTime=1633723206000
Title: "Winnetou, White Innocence, and Settler Time" by Dr. Maureen Gallagher (Australian National University)
Abstract: Proclaiming "every generation has its Winnetou," German network RTL ushered in the return of Winnetou to German television with a big-budget film trilogy, Winnetou–Der Mythos Lebt. This talk analyzes this 2016 Winnetou film trilogy in dialogue with the 1960s West German westerns and Karl May's original 1893 novel using concepts from settler colonial studies, Indigenous studies, and critical race theory to show how Winnetou centers whiteness. In the new Winnetou, full of nostalgic call-backs to the 1960s film westerns, the blood brotherhood relationship between white German Old Shatterhand and Mescalero Apache Winnetou becomes a way of forging connections not only across cultures but across temporal lines, allowing for the imposition of settler time onto Indigenous persons and the erasure of Indigenous sovereignty and survival. Understanding the blood brotherhood within Winnetou as a kind of settler adoption fantasy allows us to understand how Winnetou centers a narrative of German innocence and reinscribes fantasies of white conquest in the American West.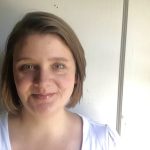 Bio: Maureen O. Gallagher is a Lecturer in German Studies at Australian National University. She holds an MA from the University of Nebraska and a PhD in German Studies from the University of Massachusetts Amherst. Her research interests in German Studies are in the areas of gender studies, critical race theory and critical whiteness studies, and postcolonialism and decolonization. Recent publications have focused on inclusive and decolonial pedagogy, race and gender in German colonial literature, and First World War literature, and she is currently working on a book manuscript on whiteness in Wilhelmine German youth literature and culture based on her dissertation, which was awarded the 2016 Women in German dissertation prize. She is also on the authoring team of the online, open access German curriculum Grenzenlos Deutsch, which has been supported by a grant from the National Endowment for the Humanities.