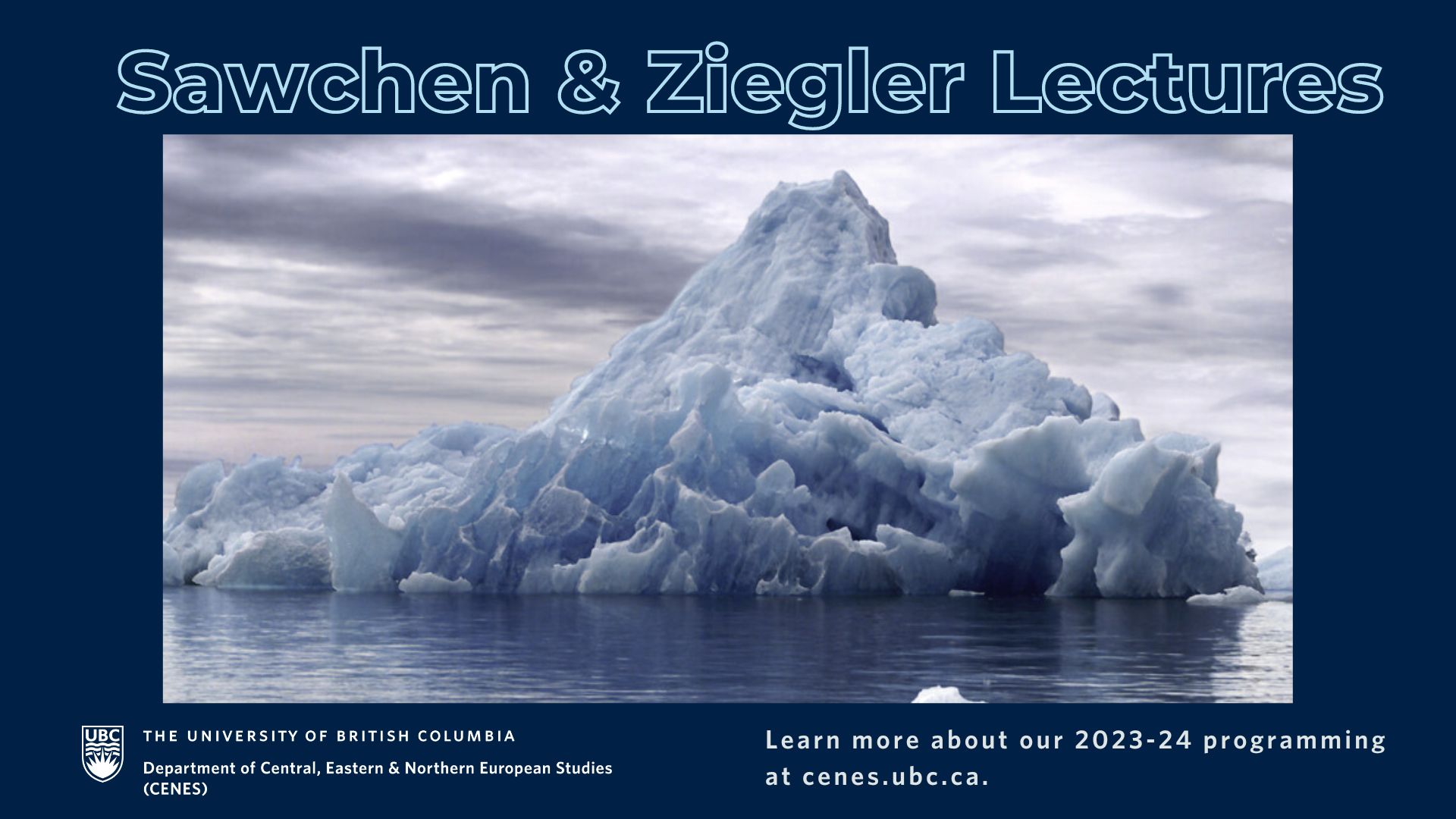 The Winter 2023-2024 program for the Sawchen Lecture Series and Ziegler Lecture Series is now available. There will be both in-person and virtual events for 2023-2024.
Unless otherwise noted, the recording of each online lecture will be made available on cIRcle after the live virtual event.
---
Term 1 Ziegler and Sawchen Lectures:
October 6, 2023 | 12:00pm PST:
In-person Sawchen lecture by Dr. Brian Baer (Kent State University), in room 1099 in Buchanan Tower
Sawchen Lecture: Brian Baer, "De-colonizing Slavic Studies: Revisionist History and Critical Reading Practices"
October 26th, 2023 | 11:00am PST:
Online Ziegler lecture by Dr. Martin Wagner (University of Calgary) 
Ziegler Lecture: Martin Wagner, "Rethinking the Politics of Theatre: Lessons from the History of Vienna's Burgtheater in the Nineteenth Century".
November 9th, 2023 | 12:30pm PST:
In-person Ziegler lecture by Dr. Erin McGlothlin (Washington University in St. Louis), in room 997 in Buchanan Tower
Ziegler Lecture: Erin McGlothlin, "Between Exile and Holocaust: Fred Wander's Hôtel Baalbek"
November 22nd, 2023 | 11:00am PST:
Online Sawchen lecture by Dr. Kamil Karczewski (Institute of Historical Research, University of London) 
Sawchen Lecture: Kamil Karczewski, "Lesbian Utopias and Polish Nationalism, 1840–1940."
December 5th, 2023 | 12:30pm PST:
Online Sawchen Lecture by Dr. Lubomyr Luciuk (Royal Military College of Canada)
Sawchen Lecture: Lubomyr Luciuk, "Lest They Forget: Canada's First National Internment Operations and the Redress Movement"
Term 2 Ziegler and Sawchen Lectures:
January 18, 2024 | 12:30pm PST:
Online Sawchen Lecture by Sebastian Schulman (Yiddish Book Center)
Sawchen Lecture: Sebastian Schulman, "Am I My Brother's Reader? The State of Yiddish Literary Translation"
February 28, 2024 | 11:00am PST:
Online Ziegler Lecture by Michelle Moyd (Michigan State University)
Ziegler Lecture: Michelle Moyd, "Askari, Gurnah's Afterlives, and History: Some Reflections"
March 4, 2024 | 2:00pm PST:
Online Ziegler Lecture by Claudia Breger (Columbia University)
Ziegler Lecture: Claudia Breger, "Literary Dreaming (Under the Weight of Political Nightmares)"
March 11, 2024 | 11:00am PST:
Online Ziegler Lecture by Zavier Nunn (Duke University)
Ziegler Lecture: Zavier Nunn, "Trans liminality and the Holocaust"