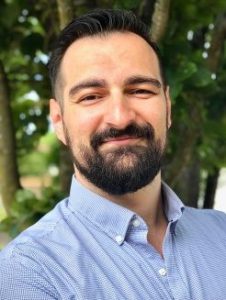 Hello all,
I'm very excited to start my second year as the Director of Undergraduate Studies for the University of British Columbia German Studies program, and to welcome you to the 2022/2023 academic year. You can find out more about my research on my faculty page.
We've had a very busy year in our program. My colleagues working on our curriculum renewal project have made lots of progress. In the coming months we hope to share more information about our newly developed program goals, which will be language-forward, grounded in critical approaches to German Studies, and feature a host of new, exciting courses that speak to the interests and lived experiences of our students. Furthermore, we developed new programs intended to support a thriving intellectual community in German Studies. This includes the Undergraduate German Research Showcase, a joint initiative with the German programs at the University of Victoria and the University of Washington Seattle. In the coming months, we also hope to expand our co-curricular offerings. For instance, we are going to launch a student-conceptualized and student-run undergraduate research journal in German studies titled Augenblick.
I'll be sure to share more information about these (and other) initiatives in due time. However, if you are already intrigued and would like to participate in some way, be sure to reach out. I'll find a way for you to contribute as we continue to nurture an intellectual community around German Studies at UBC.
I've already had the distinct pleasure to meet some of you and talk about your interests. However, I'm keen on getting to know other undergraduate students interested in any aspect of German Studies. While I understand that the beginning of term will be quite hectic and exciting, I hope that you'll be able to take some time and shoot me an email. Here is a bit more information about the types of conversations we can have:
UBC Undergrads: Reach Out!
I'd be glad to chat with you about any aspect of UBC's German program. The best way to reach me is via email at ervin.malakaj@ubc.ca. I'd be glad to make an appointment to talk about:
Individual course offerings
One of our undergraduate programs (honours, major, minor, German Studies minor)
The scholarships and award prizes in German Studies
External funding sources for research and study in German Studies (including graduate school planning)
Anything that interests you: I value conversation and welcome the chance to meet and get to know students
UBC and Broader Vancouver Community: Reach Out!
I'm eager to connect to staff, faculty, and students at UBC, as well as with broader Vancouver community members, who have an investment in German Studies. The Department of Central, Eastern and Northern European Studies is aiming to develop better relations with our campus and broader communities and would welcome your input about how we could best do that.
Course Offerings in German
We offer courses from Beginner's German to advanced seminars in cultural analysis. Courses are taught in German or in English. To find out more about our rich course offerings, visit this link.