Join us on February 14 at 11:00 am Pacific Time for the virtual Ziegler Lecture Series, featuring Dr. Anna Parkinson of Northwestern University.
View the recording here:
Title: "Contrapuntal Humanism: The Anachronism of Post-Holocaust Diasporic Writing"
Abstract: An implicit assumption in the field of Holocaust Studies is the enduring importance of humanism, at times framed as a commitment to a universal humanity (note, for example, the universalist solicitation presumed in the familiar dictum or imperative responding to the events of the Holocaust: "never again"). Almost counter-intuitively, considering the tremendous destruction wrought by the Holocaust and other acts of violence, much post-Holocaust literature likewise nonetheless cleaves to a belief in an ideal of humanism, even as it simultaneously exposes its fragility, paradoxes and limitations. Peripatetic literary and cultural critic Edward Said's evocative use of the term "contrapuntal" provides a productive point of departure for charting the anachronistic relationship between history, time, and form characteristic of post-Holocaust Jewish diasporic writing beyond the traditional Holocaust literary canon, as demonstrated in aspects of the fiction and non-fiction writing of Hans Keilson and H.G. Adler, two lesser-known German-language writers and Jewish survivors in the diaspora.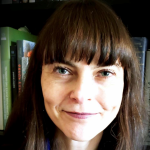 Bio: Anna Parkinson is Associate Professor of German, Core Member of the Critical Theory Program, and Affiliated Faculty with the Jewish Studies and the Gender and Sexuality Studies Programs at Northwestern University, Evanston, USA. She is the author of An Emotional State: The Politics of Emotion in Postwar West German Culture (University of Michigan Press, 2015) and articles on topics including postwar psychoanalysis and critical theory, twentieth-century fiction and film, Cold War media, the role of ambivalence in Holocaust fiction and non-fiction writing and transnational memory work.