Graduate student colleagues are the thought leaders of the future.
CENES houses a small, innovative and energetic graduate program in Germanic Studies. Each year we welcome a group of students from diverse geographic, cultural and educational backgrounds to embark on advanced discovery in the multilingual humanities. Our faculty collaborate with graduate students on projects ranging from media history to queer theory to Holocaust Studies to women's literature and digital humanities. Join us! 
The MA in Germanic Studies can be a standalone credential or preparation for doctoral study in various fields. The PhD program focuses on the development of expertise rooted in interdisciplinary research and teaching within Germanic Studies.
Our course offerings include approaches from historical, cultural, media, linguistic, performance, and gender/sexuality studies, and move beyond a traditional epoch-based mode of disciplinary engagement.
CENES is a comparative department and is also home to faculty members with expertise in Nordic and Slavic studies. In addition, Danish, German, Polish, Russian, and Swedish language courses are taught in the department.
Pursuing graduate work in Germanic Studies at UBC also means working closely with other exciting departments and programs to which our faculty and students have ties. These units include the Institute for Gender, Race, Sexuality, and Social Justice, the Institute for European Studies, Media Studies, Language Sciences, Science and Technology Studies, the Migration Cluster, Medieval Studies, the Department of History, the School of Information, and Rare Books and Special Collections at UBC Library.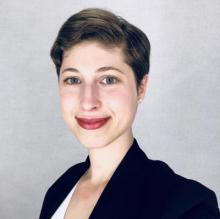 I chose UBC for many reasons, one being that my department is full of academic superstars. Also, the department was very inviting to me when I applied. When I accepted, I was told by one professor that, now, I was family.
Shoshana Schwebel
PhD Germanic Studies
Intellectual Life & Graduate Student Activities
The CENES Department has many opportunities for students to engage in intellectual exchange with our talented faculty and graduate student peers. Every year, the department hosts a graduate student colloquium or conference, a faculty research colloquium series, and the Sawchen/Ziegler Lecture Series, as well as workshops and symposia that create a vibrant atmosphere for graduate students to engage in interdisciplinary work and to learn from UBC faculty and other visitors. Some of these events and their associated research projects include elements on which graduate students can collaborate with faculty. These collaborations often lead to travel opportunities, publications, and presentations.
Our graduate students receive support to conduct research and present their work through grants and awards that allow for travel to archives and conferences. For example, graduate students in Germanic Studies regularly present at the annual conferences of the German Studies Canada (formerly Canadian Association of University Teachers of German) and the German Studies Association (GSA).
Professional development is a highlight of the graduate program; mentoring is a major focus of faculty supervision of graduate students. Graduate students are encouraged to think holistically about their professional trajectory, and they receive extensive support from our faculty and other resources at UBC. Within the program this includes thinking broadly about the applicability of skills gained during the MA and PhD programs in and beyond academia.