Join us on September 27 at 12:30 pm Pacific Time for the virtual Ziegler Lecture Series, featuring Dr. Jon Cho-Polizzi of the University of Michigan.
View the recording of this talk here:
Title: "Translating Ada's Realm: A Translators' Chat with Jon Cho-Polizzi, translator of Sharon Dodua Otoo's Adas Raum"
Abstract: Sharon Dodua Otoo's debut novel Ada's Realm (German: Adas Raum) is a tour de force of West African history, Black German identity, Holocaust memory, and contemporary decolonial cosmologies. Winner of the prestigious Ingeborg Bachmann Prize in 2016, Otoo (b. 1972 in London) rose to fame as an additional-language writer of German, coming from a Black British intellectual and social formation.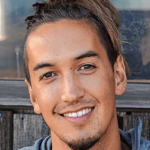 Bio: Jon Cho-Polizzi is a literary translator and Assistant Professor of German at the University of Michigan who will share experiences rendering Otoo's novel into English(es) for a broader reading public. The English translations debut in Spring 2023, so this talk is a sneak peek! Translators, creative writers, activists, German learners, please join! Note also that this novel-and-translation will serve as the core text for UBC CENES's Professor David Gramling's Translation Seminar (GERM 325) in Spring Term 2023.