Join us on January 19 at 11:00 am Pacific Time for the Ziegler Lecture Series, featuring Max Czollek. This talk is co-organized by the CMS Narratives Research Group.
RSVP to cenes.events@ubc.ca to attend this in-person event.
Title: "Radical Diversity and Deintegration: Jewish Identity Formation and Agency in Contemporary Germany"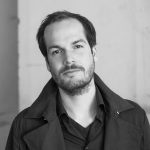 Abstract: Max Czollek is a poet, publicist and political scientist. He received his doctorate from the Center for Research on Anti-Semitism at the Technische Universität Berlin and is particularly well known for his theatrical and essayistic work surrounding memory culture, integration and Jewish identity in post-National Socialst Germany. Theaters works include De-Integration. A Congress on contemporary Jewish positions and the Days of Radical Jewish Culture at Maxim Gorki Theater as well as the international Days of Jewish-Muslim Hegemony. His essay volumes Desintegriert Euch! (De-integrate!) and Gegenwartsbewältigung (Overcoming the Present) are published with Carl Hanser Verlag, his collections of poetry at Verlagshaus Berlin. He is co-editor of the magazine Jalta – Positionen zur jüdischen Gegenwart. (Yalta – Positions on the Jewish Present). Most recently, he has co-curated an exhibition on Jewish Revenge: History and Fantasy at the Jewish Museum Frankfurt (Hanser 2022), and has been presenting and reading from the new English translation of De-Integrate: A Jewish Survival Guide for the 21st Century (Restless Books 2023).