The Scandinavian program and the Department of Central, Eastern and Northern European Studies (CENES) welcome our new Danish Lecturer Ann-Kathrine Havemose, who is leaving her native Denmark to teach Danish language courses and Scandinavian Studies at the University of British Columbia (UBC).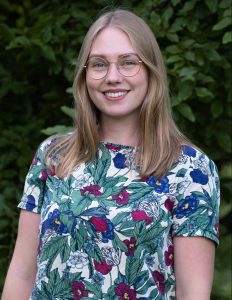 Ann-Kathrine has a Master of Arts in Comparative literature from Aarhus University, Denmark (2020), where she also got her BA in Literary History and Linguistics (2018). She also studied Celtic Civilization and Irish Folklore at University College Cork, Ireland during her BA (2018). Ann-Kathrine specializes in Scandinavian children's literature and folklore, specifically the use of folklore in modern, Scandinavian picture books. Her MA thesis explored how the oral tradition of the folktale genre affects the uses of folktales adapted into picture books in Danish day care and kindergarten practises today, and what that means for the play culture of Danish children.
Ann-Kathrine's research and teaching interests include the use of folklore in modern culture production especially in relation to trolls, memetics, children's literature and the development of a modern oral storytelling tradition, exploring the field of Scandinavian children's literature and media through theories of play, didactics, and multimedia theories. Furthermore, she is interested in how using alternative and unconventional sources and methods helps to create further-reaching, interdisciplinary research.
In Winter 2021-2022 at UBC, Ann-Kathrine will be teaching Danish 100 and 110, as well as SCAN 332A (Topics in Scandinavian Studies), SCAN 333 (Major Works of Scandinavian Literature), SCAN 335 (Vikings and Norse Mythology), and SCAN 414 (Topics in Danish and Northern European Cultural Studies).
---
Featured image: Photo by Mark König on Unsplash