It is with great pleasure that we welcome Dr. Olena Morozova to the Department of Central, Eastern and Northern European Studies as our new Assistant Professor of Ukrainian Studies. Professor Morozova will teach the following courses during Winter 2022-23: "A Time for Anger" (CENS 201 002) and "The Ukrainian Ecolinguistic Archipelago" (CENS 315 002) in Term 1, and "Lying, Deception, and Disinformation from a Ukrainian Perspective" (CENS 201 003) and "Ukraine's Strategic Narratives in the Post-Soviet Era" (SLAV 307A 002) in Term 2. She joins us from the V.N. Karazin Kharkiv National University in Ukraine.
We are delighted to get to know a little more about Professor Morozova in the short interview below.
CENES: What excites you about coming to the University of British Columbia and unceded Musqueam lands?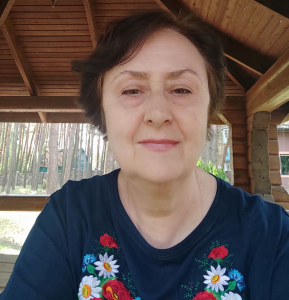 Olena Morozova: I am excited to be joining UBC for many reasons, but will name just two of them, which come to my mind first: sustainability and diversity. UBC belongs among the top universities for climate action and tackling gender equality, which resonate with my convictions. On a personal note, coming from a border city of Kharkiv (in Ukraine, a 30-minute drive from Russia), I have an experience of living in a culturally mixed multilingual community. Figuratively speaking, it means that, if we take it that people of a certain national identity wear yellow glasses, while people of another national identity wear blue glasses, then those living on the border wear green ones and are capable of seeing the world in a richer colour scheme. Teaching at UBC, I hope to tint my green glasses with new colours, learning from my students, and at the same time sharing with them the beauty and pleasure of "multicolourism", which makes our perception of the world richer and kinder.
CENES: What aspects of Slavic Studies do you hope to introduce students to that they may not know about?
OM: Well, what they may not know about Ukraine is something for me to find out. I would say it is not geography, economy or politics since these things are readily available on the Internet. My guess would be that UBC students might be interested in learning about Ukrainian culture in a broader sense and about the latest developments in its history. Most probably, they would like to understand Ukrainian mentalities better (which also presupposes "demystifying" the "mysterious Russian soul"). I hope to encourage students in cultivating the principles of critical thinking and comparison, drawing on their own knowledge and experience.
CENES: What aspects of Indigenous scholarship do you hope to strengthen here at UBC?
OM: Since my current research interests embrace ecological linguistics, together with such neighbouring areas as cognitive linguistics, discourse studies, political linguistics and multimodal linguistics, I hope to contribute to this area by bringing in a Ukrainian perspective to the respective scholarship, but mostly to engage in projects that will benefit indigenous communities.
CENES: What else would you like folks in the UBC community to know about you?
OM: My country is at war, but I am convinced that Ukraine will be victorious in it because we are fighting for our freedom. Here at UBC I intend to get the cutting-edge experience around restructuring and reimagining a present-day university, which Ukrainians will have to do after the war. I would like to establish strong collaborative links between Karazin University and the University of British Columbia.