The Department of Central, Eastern and Northern European Studies (CENES) mourns the passing of our colleague, Professor Emerita and former Department Head, Dr. Marketa Goetz-Stankiewicz.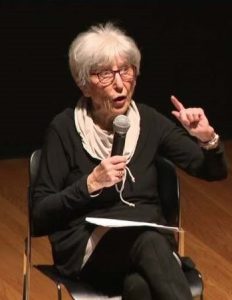 She was an outstanding teacher and scholar, much beloved and admired by many. We are grateful to have had her in our midst for much of her life and will fondly remember her and her achievements.
Marketa (she shunned protocol and was known on campus by her first name) grew up in Northern Czechoslovakia in a bilingual family where her mother tongue, German, became the language of the dreaded Nazi occupation during World War II. Her Jewish father (who had served in the Austrian army in World War I) was held in the concentration camp Theresienstadt, but miraculously survived. Marketa was not allowed to attend school during the war years, and only the arrival of the Red Army saved the family's lives.
Together with her parents, she emigrated to Canada in 1948 and made a new start in Toronto, learning English, catching up on school curriculum, and eventually studying at the University of Toronto on a scholarship. Her chosen field of study was – of all things – German language and literature, and she wrote her doctoral thesis on the 19th century German novelist Wilhelm Raabe.
In 1959, she was hired by the Head of the German Department at the University of British Columbia, Prof. Joyce Hallamore, and moved to Vancouver. Marketa taught the regular language and literature classes, got promoted, and spent a study year in Germany, the country of her former enemies. In 1980, the department members unanimously voted for her to become the new Head, a role she played reluctantly, but efficiently, for the required five years. She was twice awarded the UBC Excellence in Teaching Award (1972 and 1992), and the Canadian Association of University Teachers of German honoured her with the Boeschenstein Medal for her outstanding work.
But her heart was no longer at home in traditional Germanistik. She had discovered the vibrant world of contemporary, banned Czech literature, theatre in particular, when, in 1973, she visited the country of her birth for the first time after her emigration. She quickly established close contacts with the foremost Czech dissident writers and intellectuals, who bravely stood up against the Soviet-backed communist regime and its repression of free thought.
In the years that followed, Marketa frequently travelled to Prague, smuggling forbidden Western books into the country and helping Czech writers get their own manuscripts out to be published in the West. Her groundbreaking publication, The Silenced Theatre: Czech Playwrights Without a Stage, was released by Toronto Press in 1979. It was followed by various articles and text editions of Czech writers. After the overthrow of Communism in the Velvet Revolution in Prague (1989) and the rehabilitation of  formerly suppressed Samizdat writers, Marketa's contributions were honoured by the new president, playwright Václav Havel, in a televised state event from the Prague Castle. Her publication Good-Bye, Samizdat: Twenty Years of Czechoslovak Underground Writing appeared in 1992, the year of her retirement from UBC. She was duly honoured with a Festschrift put together by some of her colleagues.
However, Marketa never really retired. She kept writing articles and giving lectures at international conferences as she had done before. She did not offer solutions, but asked questions that might help find solutions. Nobody could resist her charm and her human warmth. She was known to invite students for lunch and take a genuine interest in their lives. After the death of her beloved mother, Helen Goetz, and that of her husband, UBC Political Science professor Wladyslaw Stankiewicz, she lived the last two decades of her life by herself, but surrounded by and in close contact with many lifelong friends from different backgrounds, countries and languages. She, who at one time had been called "the soul of the UBC German Department," had morphed into an internationally known and much beloved personality who will be missed by many around the world.