by Melissa Phua
Our UBC German Studies Alumni Spotlights help current students find out about the work our former students did in our program and how it helped them in their intellectual and professional journeys. German Studies Program Assistant Melissa Phua interviewed Christian Epp, a German Studies alumnus, about his experiences in the program.
If you are interested in our German Studies program, please contact Dr. Ervin Malakaj, Director of Undergraduate Studies in German, for more information.
---
Tell us a bit about yourself! Where are you in your professional journey?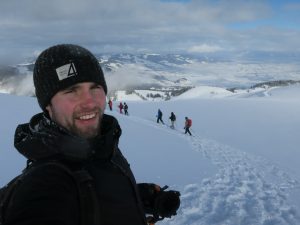 I grew up in a small town on Vancouver Island, called Qualicum Beach, and after high school I decided to study at the University of British Columbia. From 2012 to 2017, I completed a B.A. in Linguistics with a German Minor, during which time I was lucky enough to experience an incredible year in Konstanz, Germany, as an exchange student. After graduation, I obtained a TEFL/TESL Certificate in order to teach English as a foreign language abroad. I've been living in Taipei, Taiwan, and teaching English at a private school here since 2019.
With my time off, I enjoy reading novels and taking a short train ride out of the city to hike one of the many jungle-covered mountains surrounding Taipei. During my time in Taiwan, I've tried my best to keep up my German skills, taking any opportunity I can to connect with fellow German speakers, but I have also begun learning Mandarin Chinese, which is quite fun but also quite a struggle at times. I hope to make English teaching my full-time career and to one day teach in higher education. As a result, I've just started a Master of Education in Teaching English as a Second Language at UBC to help me achieve that goal.
What got you interested in German?
Oddly enough, I first started to learn German in a high school photography class. When I was in grade 11, there happened to be quite a few German exchange students at my little high school and four of them were in my photography class. We became friends, and since there's not much to do in photography class besides walk around and take photos, I asked them to teach me a bit of German. By the end of that course, I had learned how to count in German, the colours, and a few basic phrases, such as Frohe Weihnachten and Alles Gute zum Geburtstag.
Although this experience is initially what sparked my interest in German, what most motivated me to study German at UBC was the connection it could give me to my grandfather (my Opa) and to a part of my heritage. My Opa's first language is a form of Low German, and once I realized that I had the opportunity to speak to him in his mother tongue, it only drove me to learn more and more. Of course, I was also interested in speaking the language with my German friends, the opportunities of travel and studying abroad, and a better understanding the German culture, but that connection to my Opa and his childhood has always been the foundation of my interest in German.
What was your experience studying German at UBC? What were your most memorable moments?
Overall, my experience learning German at UBC is one that I look back on very fondly, and I think that's mainly due to the wonderful professors and staff in the German program in the Department of Central, Eastern and Northern European Studies. I remember how well-organized and structured the courses were, especially from one level to the next, and that made learning the language just that much easier. You could really tell how much effort had been put into the curriculum and how much communication had taken place between the professors in the department. However, I think the most memorable part of my experience and what most positively affected my German studies at UBC were all of my amazing German professors. They were all such enthusiastic, engaging, and caring teachers that I always remember feeling involved in classes and fully supported throughout in my learning.
There is one particular memory, which took place during one of my 400-level classes, that particularly stands out to me and encapsulates the experience I had studying German at UBC. Before the start of this class, it had been raining for many days on end (typical of Vancouver weather), but during class it became really sunny outside, so our professor suggested we take advantage of the beautiful weather and go walk around the Nitobe Memorial Garden instead of being cooped up inside the classroom. We spent the class enjoying the outdoors while listening to her stories, discussing German, our studies, and our future goals and plans. It was a wonderful way to practice German, as well as a great way to connect with our professor, and for me, it was experiences like this that made my time studying German so memorable.
How did your experience with German at UBC help you with your career?
You might not think that studying German would help with a career in teaching English, but there are a few ways in which it has helped me. As a language teacher, studying a foreign language yourself can help you understand what your own students are going through, and how best to help them throughout the learning process based on your own experiences. This would be especially true for teaching English to German-speaking students, but it has also helped me with my students in Taiwan and I know it will help me with all my students throughout my career.
Through the study of German grammar, I also gained a better understanding of certain English grammar terms and how to effectively explain them. Whether or not I fully knew it at the time, through learning German and by observing my experienced professors, I was learning how to be an effective teacher, as well as getting ideas for exercises that I could use in my own classes in the future Additionally, studying any language can teach you about the other languages you may know, but since German and English are related Germanic languages, it was particularly useful for me to study German.
Lastly, language is an inherently social construct, so learning a second language will improve your social skills, help you to understand different cultures, and overall make you more confident and more employable for your future career, no matter what that may be.
If you could give any advice to current students pursuing German at UBC, what would that be?
If there's any advice that I would give to current students pursuing German at UBC, it would be to take advantage of all the resources you have available at university and in the city. Don't hesitate to ask your professors for help and guidance, participate in any German events or clubs put on at UBC or in Vancouver, take any opportunities you have to practice speaking, and especially, if you have the means to do so, take a year to go on exchange in a German-speaking country.
I studied for one year in Konstanz, Germany, and it was one of the best life experiences I've ever had; not just for my German skills, but also socially and personally. I made incredible friends, got to participate in numerous cultural events, and discovered a lot about myself. Even if it adds time to your degree, I would still recommend an exchange year. I went on an exchange during my fourth year at UBC, and as a result, my degree was five years long, but it was entirely worth it. Also, when I returned to UBC for advanced-level German classes, I felt much more confident expressing myself in the language, which greatly improved my learning experience at home, as well.