Russian is spoken by nearly 270 million people around the world. It is the official language of the Russian Federation. In Belarus, Kazakhstan, and Kyrgyzstan, Russian is the second official language.
It is the working language of the Commonwealth of Independent States (CIS), one of the four languages in the Antarctic Treaty Secretariat (ATS) and one of the six languages of the United Nations and of the Organization for Security and Co-operation in Europe (OSCE). Alexander Pushkin, Lev Tolstoy and Fyodor Dostoevsky made Russian literature a major world literature. Eugene Onegin, War and Peace, Anna Karenina, Crime and Punishment, and many other world masterpieces were written in Russian and stem from the Russian culture.
Besides, you need Russian to be an astronaut!
You marvel at the richness of the Russian language: whatever the sound, it's a gift: everything is grainy, large, much like pearls, and sometimes the definition is still more precious than the thing defined.
N.V. Gogol
Russian Novelist
Russian Program
Our program offers a full four-year range of Russian language courses. 100 and 200 level courses introduce students to contemporary Russian focusing on oral practice, reading and writing skills. In senior years, language skills are enhanced and reinforced by learning and practicing them in Russian social, cultural and historical contexts.
Russian literature courses introduce students to the world of literature where "imagined characters walk out of fiction into real life, while real-life writers are raised to the status of myth," to use words of Caryl Emerson. In addition to a variety of survey and thematic courses in nineteenth- and twentieth-century literature and culture, Russian masterpieces are also present in the Slavic literature course.
Minor in Russian
To minor in Russian, students have to successfully complete 12 credits of lower-level language and 18 credits of upper-level language and literature/culture courses. Students with advanced training or a comprehensive background in Russian may be waived from taking the lower-level language courses. In addition to the language component, students take upper-level courses in Russian literature and film. They offer insight to the Russian culture in its historical context.
Minor in Russian is recommended for students interested in the Russian and Slavic world. It will enrich studies in international relations, political science, linguistics, literature, opera and theatre, anthropology, geography, gender and social justice, among many other areas of study.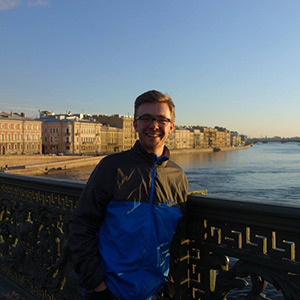 UBC's Russian minor allows students to build strong language skills that they can then contextualize with focused studies in literature, history, anthropology, and more. Having this minor helped me bring both of my major fields of study—International Relations and English Literature—под одной крышей (under one roof).
Jack McClelland
Minor in Russian
Featured Russian Program News