The UBC Department of Central, Eastern, and Northern European Studies (CENES) is excited to welcome the two newest members of our team. This October, Gabrielle Bonifacio and Emilie Kneifel took on the posts of assistants to Dr. Ervin Malakaj, the Director of Undergraduate Studies in German. You can find out more about these two student leaders on our campus below.
---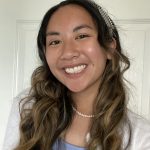 CENES: What work do you do or have you done at UBC?
Gabrielle Bonifacio: I'm currently in my final year at UBC, with a major in Media Studies and a minor in German Studies! Previously I worked at UBC's Equity and Inclusion Office and UBC's Centre for Student Involvement and Careers, where I was able to apply visual and communications' skills to a wide range of topics. These ranged from gender and anti-racism to student careers' and aspirations in the Arts field. Besides special interests in creative writing, graphic design and film, I am particularly passionate about increasing nuanced representation of BIPOC and 2SQBIPOC folks in the media.
CENES: What sorts of projects are you working on in your new position in CENES?
GB: Currently some of my projects include working on a handbook for incoming students who may be interested in pursuing one of the German degree programs (i.e., German major, German minor, German Studies minor, German honours) and supporting the planning for an undergraduate conference in German Studies. Both seek to encourage and meaningfully support students in their academics and highlight the continuous evolution of German Studies at UBC.
CENES: What are you most excited about when it comes to German Studies?
GB: Personally, I am excited about the ways in which German Studies is opening up to analyze and discuss more diverse themes, such as decolonization and the intersectionality of identity within the fields of language and culture. I believe that the progression offers opportunities to create space for folks who have historically been excluded, inspires new interest in German Studies and creates richer pathways of learning.
---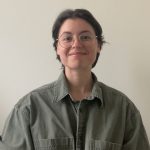 CENES: What work do you do or have you done at UBC?
Emilie Kneifel: I have been lucky enough to be all over the place! I have worked as a research assistant and a student journalist; right now, I am really enjoying asking strangers to race me at the Aquatics Centre. I am in my final year in Interdisciplinary Studies in Linguistics, Language Acquisition & Revitalization. I take German classes as part of this degree, because part of my interest is in pedagogy and the way that L2 languages are taught and learned.
CENES: What sorts of projects are you working on in your new position in CENES?
EK: Right now, I am compiling research into possible collaborators for an undergraduate research journal and conference. I am very invested in making sure that, as we create newness anywhere, we are doing it with the actual world in mind. German Studies is deeply related to diaspora, critical race, and migration studies; as such, I feel especially excited about interdisciplinary outreach in these upcoming projects.
CENES: What are you most excited about when it comes to German Studies?
EK: When it comes to German Studies at UBC specifically, I feel most excited about prioritizing inclusion and critical perspectives as a baseline. When that is a given, students' imaginations can flourish. So much becomes possible. This department has been vital to my feeling like I belong somewhere at UBC, and my hope as part of this team is to make it an even better home for someone else.
---
Gabrielle Bonifacio and Emilie Kneifel will be involved in key work to vitalize the academic mission of the German studies program. They will work closely with Dr. Malakaj on a number of projects that seek to bring undergraduate students and faculty together around research.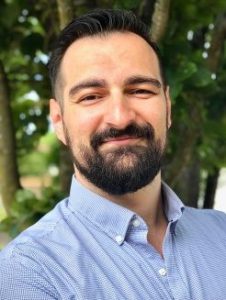 CENES: What are you most looking forward to in your work with the new team members?
Dr. Ervin Malakaj: I've recently published a post on our website outlining why I believe students should pursue German studies at UBC. In it, I make connections between reading literature and pressing issues our world faces today. Gabrielle and Emilie represent our excellent undergraduate student body in German studies very well in this regard. They experienced first-hand how an engagement with language learning and cultural analysis positions us to be sensitive to broader structures that shape our lives. We will develop a couple of programs for our students together that focus on structural analysis. Here, I'm most looking forward to an undergraduate student symposium in German studies we hope to stage W2021 T2.
You can access more information about German Studies at UBC here. If you have any questions about the program, reach out to Dr. Malakaj (ervin.malakaj@ubc.ca).