By Delaney Westby, Scandinavian Studies Minor
Pending Ministry approval, the UBC Department of Central, Eastern and Northern European Studies' Scandinavian Studies program will be changing to Nordic Studies at the beginning of Fall 2023.
Why are we changing the name?
Nordic is a more fitting descriptor for the goals and focus of the program, and includes a greater range of things. The term Nordic encompasses more countries and cultures than Scandinavian does, which has a varying definition but is often thought to only include Sweden, Norway and Denmark. Our courses cover a much broader spectrum than this, and the CENES Department wants a title that better reflects the places and peoples that we teach about, which include Iceland, Greenland and the Greenlandic Inuit population, Finland, Sápmi, the Faroe Islands, and Åland.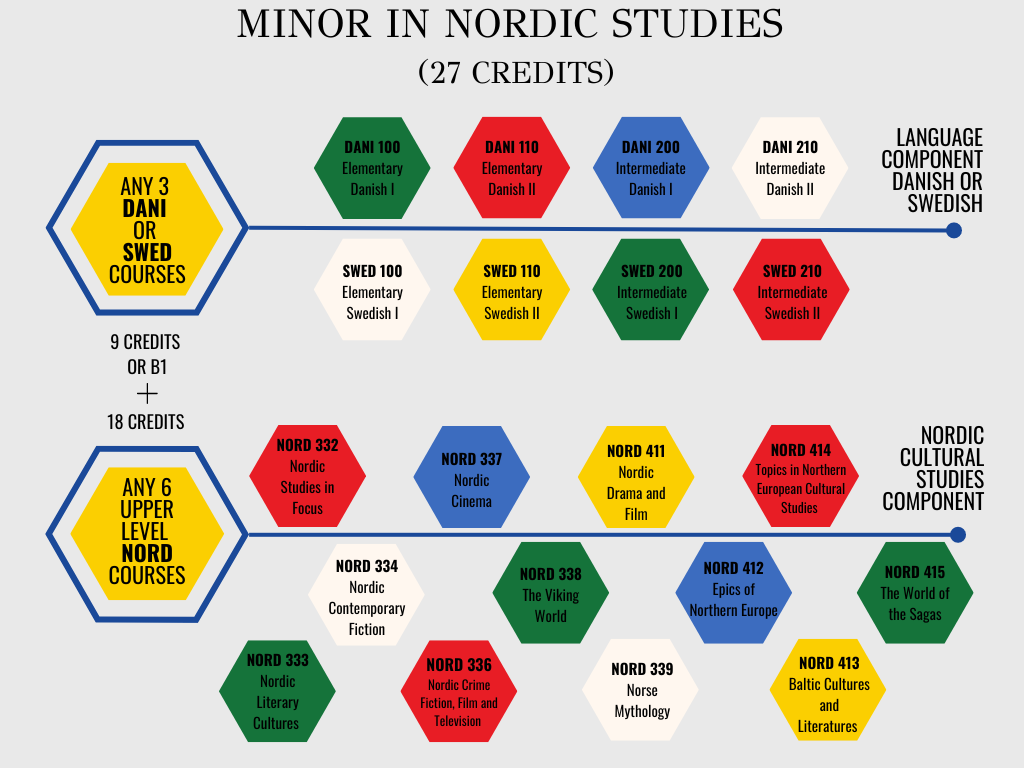 What else will be changing?
Along with the change in the program name, there are changes in the program course titles and descriptions, and in the requirements for the Minor. The course codes will be changing from SCAN to NORD, and the descriptions for courses will now be more detailed and accurate, to make it easier for students to navigate their options. We want to make our courses as understandable and accessible as possible, so that students are less concerned about the confusion of course selection and more focused on all the exciting topics to choose from, whether that's Nordic crime films, ancient sagas and stories, Viking culture, or the dark themes explored in Nordic children's books.
Changes in the Minor
For students who decide to pursue the Nordic Studies Minor, there will be some small changes to the requirements. The Minor has always been composed of a Language Component and a Cultural Studies component. The Language Component will be changing so now only 9 credits of either Swedish (SWED) or Danish (DANI), or a combination of the two, will be required. This component gives students a foundational understanding of Nordic languages and will enrich their engagement with Nordic culture via reading, listening to music, watching films, singing drinking songs, writing poetry, and learning slang and conversational jargon. Students who decide to fulfill the language requirement up to a 210 level will have achieved at least a B1 proficiency in Danish or Swedish as defined by the Common European Framework of Reference for Languages (CEFR), an international system for classifying proficiency in different languages.
The Cultural Studies component of the Minor will remain the same – students will take 18 credits of 300-level or higher NORD courses, which will expand their knowledge of Nordic literature, film, culture, folklore, media and society.